ICC turns 40
In 2008 the company has reached this important milestone.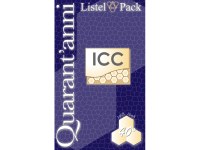 In early 1968 the ICC snc has started its activities.



During these years ICC has grown in size and experience, has increased its technological background and is constantly looking for new solutions.


The production of honeycomb cardboard for doors and windows were added so many new and extremely useful products, from board invention ICC!
This has given the option to set the mark Listelpack ®, a sign of quality and reliability of ICC sas.


Producing honeycomb in the late 60s, in Italy, an idea might seem too revolutionary for its time (it was in fact imported from Switzerland), but this has set out the ICC profile: a society in constant search of new production
, attention and commitment to the environment.
From there began the story of a company that would talk about him.


Today ICC SAS is the leader in the development of components and environmentally friendly packaging.
Now, passing the milestone of 40 years experience is evident by the company, intended to achieve other important objectives.

We are confident that the main goal will always be customer satisfaction by offering solutions continuously to reduce the environmental impact.