ICC is an ECO-Company
ICC reducing emissions of greenhouse gases thanks to a photovoltaic system and a Methane co-generator.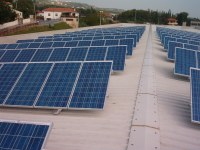 ICC has always been attentive to the environment making great efforts in the field of energy, an increasingly topical issue and a problem that requires more attention.


It does, however, in terms of sustainable development is a strategic asset for any company, especially for ICC, which uses recycled paper as raw material.


From this it was decided to invest in the environmental field and we can now say with confidence and pride that we have reaped the fruits of these efforts.


E 'was installed in the shed, in fact, a 50-kilowatt photovoltaic system that covers 65% of energy needs of the company.
The economic effort was certainly important, but we believe we have the courage and the ability to produce goods and wealth, with the greatest respect for the environment around us.


The plant was designed and installed by Habitat Inc.che uses the latest technology available today.
"Aleo cells" made in Germany and an inverter Fronius "are the main components.


In addition, the remaining 35% of energy needs is met through a system of "co-generation" installed in the Company.
With these two investments we could significantly reduce the environmental impact by the ICC.


That confirms our commitment to reducing emissions of so-called "greenhouse gases".